Ceramic (transparent) brackets
The most common and economical solution for a more discreet appearance during treatment. There are different types of aesthetic braces that differ mainly in the quality of the material. In our practice braces are used from monocrystalline sapphire which provide transparency and thus reflect the color of the teeth.
100% personalized braces created for each patient after digital intraoral scan without fingerprints with the scanner Trios (3Shape). The Incognito® (3M) technique we use enables us to deal with every kind Orthodontic discord with brackets glued to the inside of the teeth, making them practically invisible.
100% personalized, digitally designed orthodontic treatment with a series of successive transparent membranes (aligners) that change every five to fourteen days and gradually move the teeth to their correct positions.
Dental-mainly- discrepancies can be corrected with this technique, with aligners that can be removed for eating and brushing. Transparent resin is placed on some teeth (attachments) for correct and predictable results.
How it works
A digital 3D scan of the teeth along with photos and xrays are used by your orthodontist in order to plan the movements of the teeth in detail from the beginning of the treatment. The orthodontist plans each separate step of the treatment, which is then 3D-printed into a set of aligners that needs to be worn full time for 5-14 days depending on each case. The aligners come in sequential order, with each one of them pushing the teeth gradually into their correct positions. Invisalign is manufactured in a specialized laboratory in the USA (Invisalign, Align Technology).
An advantage of this technique, in addition to being considered one of the most aesthetic options, is that it does not complicate oral hygiene because the aligners can be removed if needed.
It is ideal for relapses (tooth shifting after previous orthodontic treatment with fixed appliances or aligners), treatment of adults with increased aesthetic requirements and treatment of adolescents, particularly in cases with incomplete oral hygiene where the positioning of fixed mechanisms complicates the effective cleaning of the teeth and gums.
Depending on the case it is used one of the following techniques:
Invisalign
Orthocaps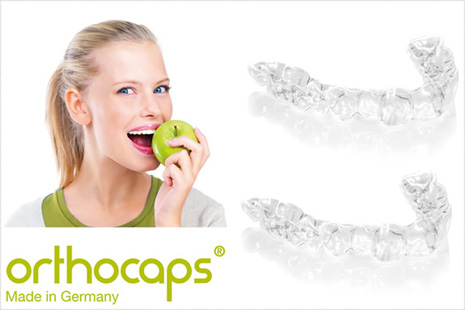 CA Clear Aligner